Our Favorite Local Farm - Tanaka Farms Offers Fall Fun
We love Tanaka Farms. We often shop at their open air grocery right on location at their farm. I can not get enough of the Farm to Table freshness offered!
Now that Summer is coming to an end, celebrate Fall with some festive Farm Fun, at Tanaka Farms!
Here are all the deets on the upcoming events -
Eat, play, and learn on Labor Day weekend!
Summer is coming to a close and kids are going back to school. At Tanaka Farms they are all about celebrating the change of seasons!
Come on out on Saturday 9/3 and Sunday 9/4 from 10:00 to 2:00 to enjoy:"Backyard BBQ" plates at our Food Shack - juicy ribs, grilled farm veggies, along with many of "the Shack's" everyday items. ATV rides for our younger guests. Planting station to start your own garden.
Free samples of their season's harvest - corn, melons, grilled onions, butternut squash.
Free cooking demo by Chef Joni (see below for info).
Get a sneak peek into our Pumpkin Patch!
And much more!
FREE admission to the festival. Some activities are priced separately.
Yes, Tanaka Farms will still be running Melon Tours and U-Pick Tours this weekend at their scheduled times.
If you are a CSA member, look for an email with a special offer for this weekend!
Check the Calendar of Events page for more information about tours.

Learn how to make amazing vegan Poke!
Chef Joni Marie Newman is holding another great workshop in our Summer Cooking Series! This time she will be putting a vegan spin on a Hawaiian classic with her Watermelon Poke. Come relax in our Demo Tent to watch, learn, and eat!
Dates: Saturday 9/3 & Sunday 9/4
Time: Class begins at 11:00am
Place: Tanaka Farms Demo Tent (next to the produce stand)
Come hungry! Click here to learn more about Chef Joni at justthefood.com.

UCCE Master Gardeners of Orange County comes to Tanaka Farms.
Tanaka Farms, in partnership withMaster Gardeners of Orange County, is pleased to offer the first of our gardening lecture series to be held at our farm!
In this workshop, learn how to: "Plant a Salad Bowl" - Creating a leafy green harvest in your own backyard is both healthy and enjoyable!
Date: Saturday, 9/10
Times: Lecture is presented twice, 10:00-11:00 am and repeated 11:00 am-12:00 pm
Place: Tanaka Farms Demo Tent (next to the produce stand)
Admission is FREE
Learn more about Master Gardeners at their website.

Find a new friend for life at our Dog Adoption Day!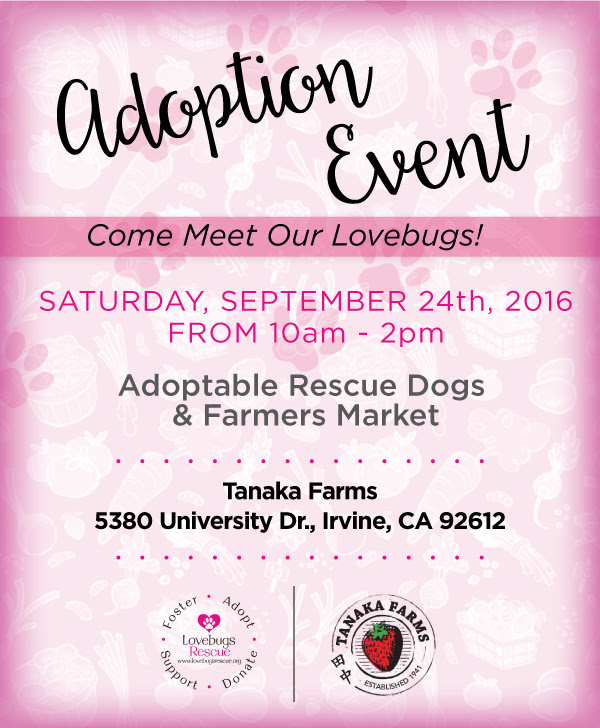 If you love pets as much as we do you won't want to miss their Dog Adoption Event! Lovebugs Rescue will be there with some of their sweet adoptables looking for loving homes.
Date: Saturday 9/24
Time: 10:00am to 2:00pm
Place: Tanaka Farms Demo Tent (next to the produce stand)
Visit Lovebugs' website for photos and information about their mission.
They will also have a pet boutique with unique accessories to spoil your pet!
Pumpkin Patch Opens on 9/29!
In one month, we open the gates to fields of pumpkins in all shapes, sizes, and colors! Yes, our Pumpkin Patch starts soon so get your porch ready for Jack-O-Lanterns. This picture was taken just a week ago so you can imagine the fields turning more orange by the day.
Enjoy a wagon ride, petting zoo, and veggie patch, and corn maze daily. On weekends enjoy games, pumpkin cannon, ATV rides, and much more!
Tanaka Farms Foodies are already preparing a unique pumpkin season menu too!
Visit the Pumpkin Patch page for more information. Costumes always welcome!
Upcoming Events:
September 3rd & 4th: Labor Day weekend festival
September 3rd & 4th: Cooking Demo with Chef Joni
September 10th: Master Gardeners Lecture - "Plant a Salad Bowl"
September 16th: Harvest Moon Festival (SFUA)
September 24th: Farm Walk for Childhood Cancer (OCO/JAO/SOC)
September 24th: Lovebugs Pet Adoption Event
September 29th: Pumpkin Patch Opening Day
October 15th: Farm to Fork Dinner (MaxLove Project)
Happy Fall Everyone - Have a Farm to Table Fresh Time!